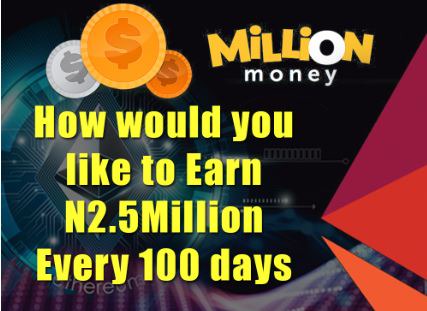 So people, after this article, you will thank God for coming across this post
Many out there are looking for such great opportunity to make ends meet this LOCKDOWN Period
Believe me, this business will change your life, so pay attention to all the details and ask your questions in the comments section
So here is the deal – Million Money (based on ethereum Blockchain Technology)
Why Million Money??
To accumulate ethereum easily by way of crowd funding through a smart contract built into the ethereum BLOCKCHAIN
Simple system where;
Everyone accumulates ethereum up to 32 eth every 100 days by a one time payment of 0.035 eth (N3500)
Meanwhile 1ETH is about #54,000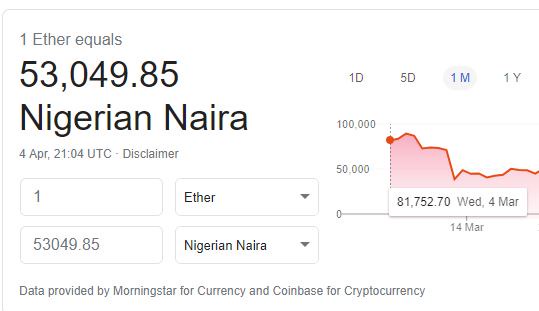 Let's Do the maths
32ETH × N54,000 = N1,728,000
(Note that exchange rate is going up soon)
This is a great deal people
💰💰💰💰💰💰💰
———————————————————————
This system has been designed to be simple enough for a dummy.
I mean, you don't need to be a bad ass mathematician to do this
No magic, no Yee Yee story that touches the heart 😰
If it's your turn you go collect, unless you fail to do the needful (you did not pay when it's your turn to pay)
😁😁😁😁😁
What do you need to crush this ?
1. This same smart phone you are looking at or a laptop
2. A one time contribution of 0.035 eth (N3500)
3. Ability to copy and paste
4. Team work and ready to learn
HERE IS A MORE DETAILED EXPLANATION 👇🏽👇🏽👇🏽
THIS IS HOW MILLION MONEY SMART CONTRACT COMMUNITY PLAN WORKS
LEVEL 1
2 people who you invite (don't be afraid, if you can't talk to people, just upload images about Ethereum, million money, and just watch, people, your friends must ask you how far) or who come as spillover to you donate 0.03 ether each to you. You get 0.06 ether. You use 0.05 ether to buy level 2 and you remain with profit of 0.01 ether $2USD or N900. Which you can withdraw only after you have upgraded to level 2
LEVEL 2
The 4 people recruited by your 2 people will donate to your level 2. Each will donate 0.05 ether to you and you will get a total of 0.2 ethereum. You will then use 0.1 ethereum to upgrade to level 3 and you will remain with 0.1 ethereum ($22USD or N9,900) as profit which you can only withdraw after you have upgraded.
LEVEL 3
The 8 people recruited by the 4 should donate to you 0.1 ethereum each that total is 0.8 ethereum. You will use 0.4 ethereum to upgrade to level 4 and you will keep 0.4 ether ($100 or N45,000) as profit. Which you can withdraw only after you have already upgrade
LEVEL 4
The 16 people recruited by the 8 people will donate to you 0.4 ethereum each totalling to 6.4 ethereum. You will use 1 ethereum to upgrade to level 5 and you will keep 5.4 ethereum ($1163 or N523,350) as profit. which can only be withdrawn after upgrade is confirmed
Level 5.
32 people recruited by the 16 will contribute to you 1 ethereum each thats totalling to 32 ethereum ($6965 or N3,000,000) net profit
You can either withdraw your profit at each stage or at the final stage but do not try to withdraw before you upgrade to the next level….
And it goes like this to level 10
🏃‍♂🚴‍♂🏃‍♂🚴‍♀🏃‍♀🚴🏽‍♂🚴‍♂🏃‍♂🚴‍♀
Mehn!!!
I bet everyone here can do this
💪🏼💪🏼💪🏼💪🏼💪🏼💪🏼💪🏼
If you know you can't do the above, (Hide your face)
So you see,
if you are yet to contribute, then is either you no like better thing or the money too small for you.😁😁😁
But my team and I have decided to help you succeed if only you contribute your part of the deal 💪🏼💪🏼💪🏼💪🏼💪🏼💪🏼
Abeg help me zoom this chart make you see say we no dey pick beans for this group 👇🏻👇🏻👇🏻👇🏻👇🏻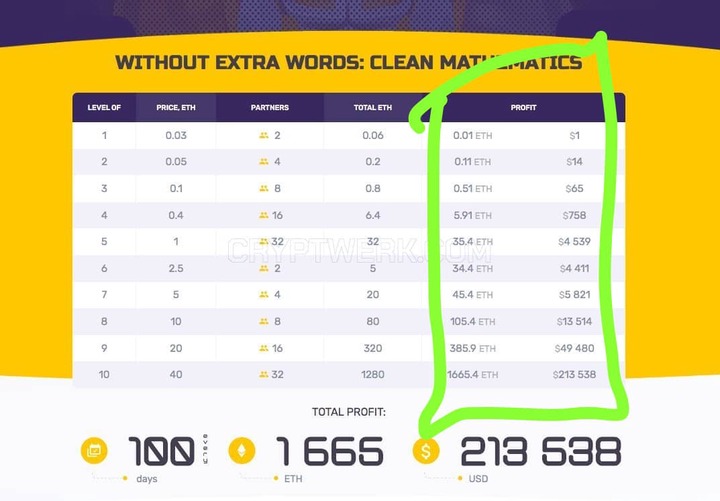 Those are your benefits for completing each level and they comes back every 100 days . 😋😋😋😋😋 That's 3 good times every year
Abeg check am again like this👇🏻👇🏻👇🏻
Breakdown of profits in👇👇👇👇👇👇 naira in (could increase based on exchange rate)*
MONEY YOU WILL MAKE AFTER TEAM MILLION MONEY BUILDERS COMPLETE EACH LEVEL FOR YOU👇🏻
Profit you will make after completing each level
🤗🤗🤗
👉🏼 1st Level -N1000
👉🏼 2nd level -N10,000
👉🏼 3rd level -N40,000
👉🏼 4th level -N524,000
👉🏼 5th level- N2,800,0000
Price may still go up depending on the rate of ETH.
Market factors are unstable presently.
Believe it or yes, guys dey crush this thing well
Like I mean guys wey start this January and February even this month self
Mr Philip my guy joined Last week Saturday and today exactly one week later he is already in level 3
Make I show you small
😁😁😁😁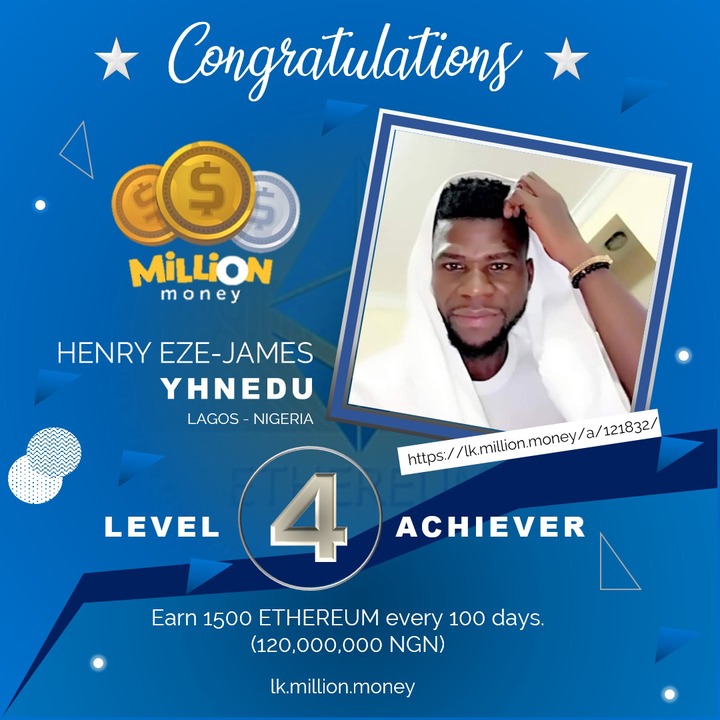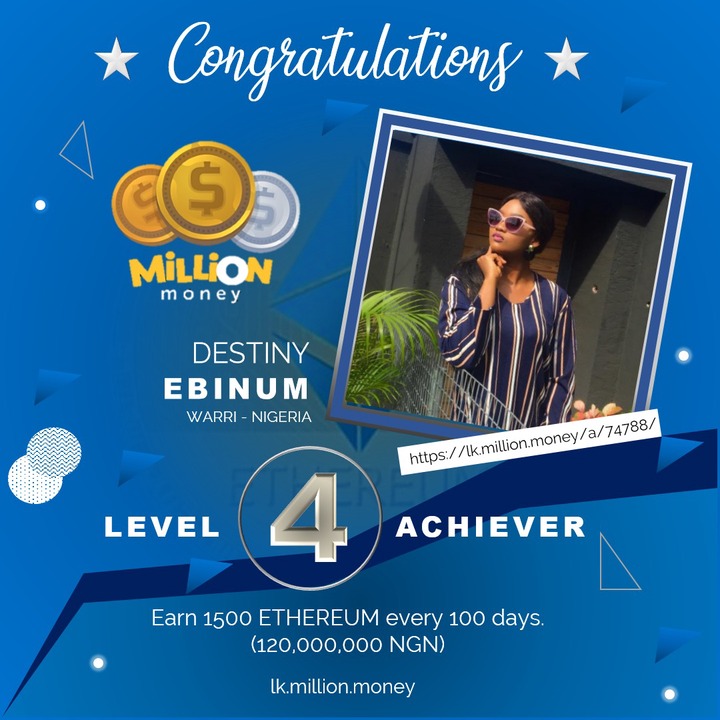 You want see the money abi ???
Oya open your eyes and use your calculator
😁😁😁😁
Dollar na N400 for black market oo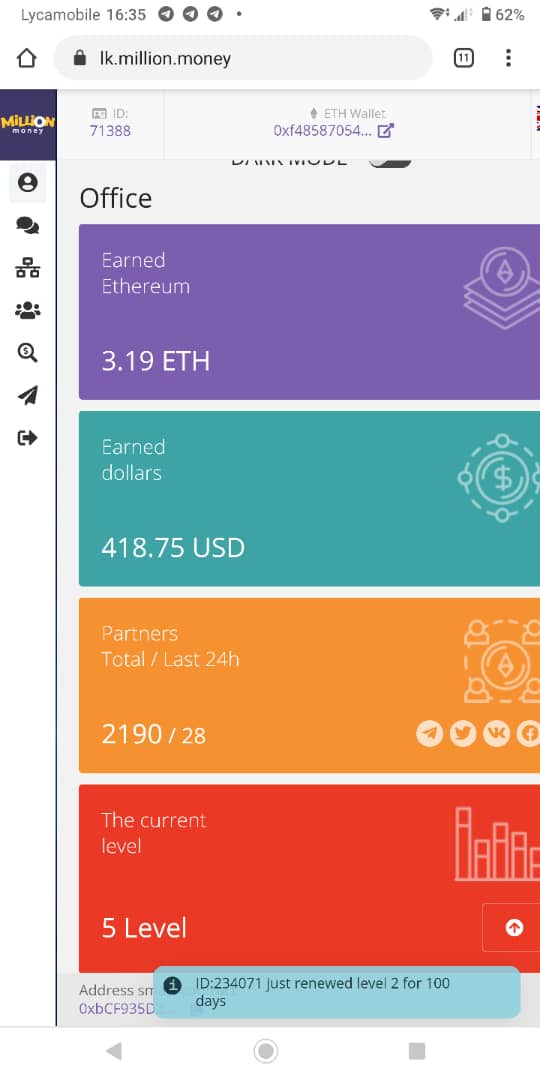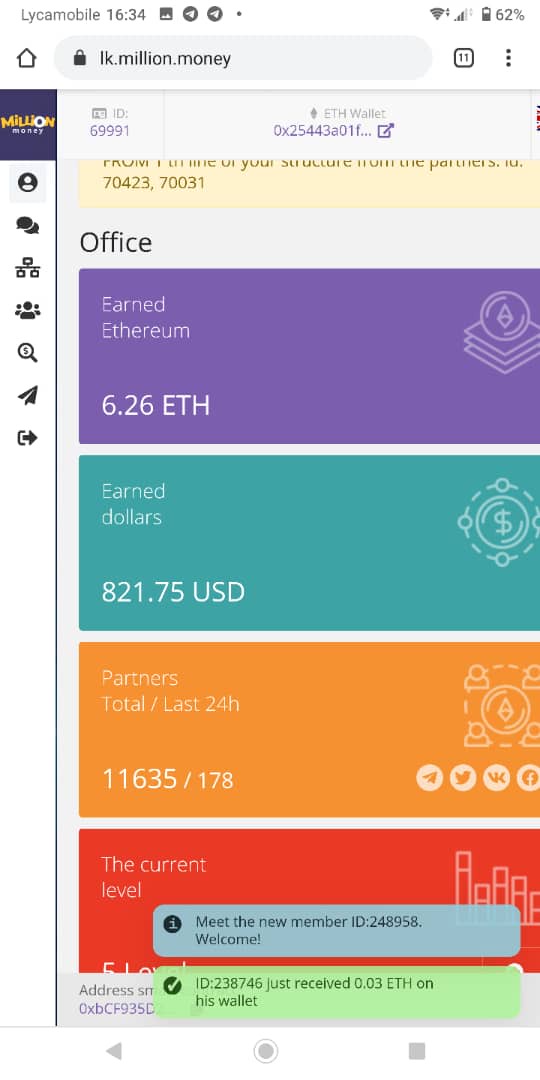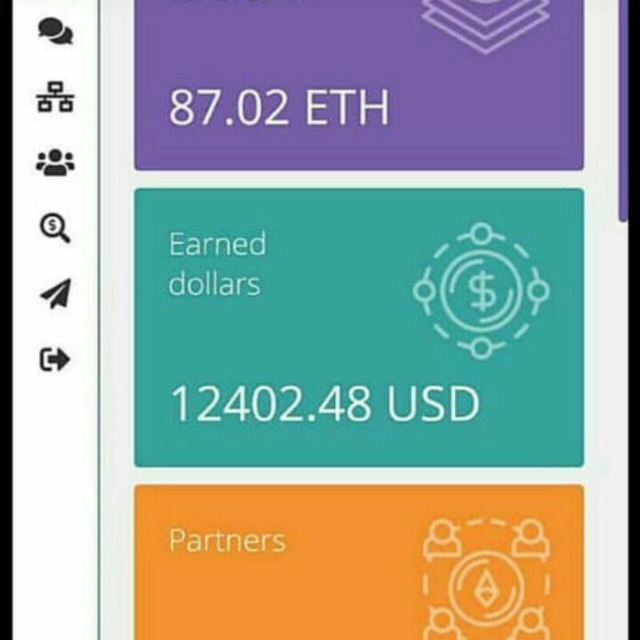 See eeh, if they can do it, you can do better.
Most of these guys didn't see evidence like you are seeing it now.
All these figures na for N3500 one time contribution oo
How to register??? No fear, so simple
NOW HOW TO GET STARTED
FIRST
DOWNLOAD AND CREATE YOUR TRUST WALLET
STEP TO CREATE TRUST WALLET AND JOIN MILLION MONEY
Download Trust wallet app
👇👇👇👇
👇
Click on create wallet
👇
Write 12 phrase(Note)
👇
Verify phrase sequence
👇
-Click on Ethereumm
👇
-Click on receive
👇
-Copy address
👇
-Send to me or any exchanger for funding of your wallet $10 ethereum which cost you 1 time payment of N3500
👇
-you are only exchanging naira for ethereum, just like you exchange naira for dollar
👇
-After recieve 0.03 Eth
👇
-click on DApp
👇
-Copy and paste sponsor link on the Dapps browser
(Click search/enter)
👇
-Register ( change language)
👇
-Login atomatically
👇
-To register
👇
– Approve
Now joining complete
Join For Full Support
Testimonies from people like you 👇🏽👇🏽👇🏽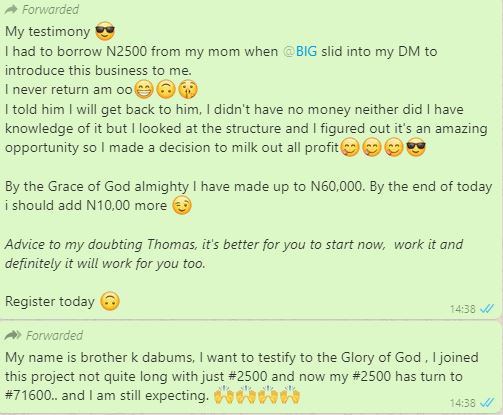 But before I go, I'll like to say….
Start building your business today, pay more attention to it now, so that in a few months you can realize that you have created reliable support for years to come! Confidence in the future gives us a smart contract, which is a strong foundation for both the project and
SIMPLE FACT
DO YOU KNOW THAT:
If you decide to register NOW!!!!
This will be YOU (ACTION TAKER) at the TOP?… YOU are special.
YOU should be at the TOP 🤴.
You➡ 🤴
🙂🙂
🙂🙂🙂
🙂🙂🙂🙂
🙂🙂🙂🙂🙂
🙂🙂🙂🙂🙂🙂
(your down lines)
But If you doubt, procrastinate or wait to see others results, then this could be you NOT AT THE TOP AGAIN but DOWN THE LINE.
Someone Else➡🤴
🙂🙂
🙂🙂🙂
🙂🙂🙂🙂
🙂🙂🙂🙂🙂
🙂🙂🙂🙂🙂🙆‍⬅ (YOU)*
You loose your supposed downlines to someone else who took ACTION because you PROCRASTINATED you DOUBTED because as you delay, OTHERS ARE REGISTERING.🤷🏻‍♂
Take the bull by the horn TODAY. GET REGISTERED NOW and together we shall welcome a brighter tomorrow.
======FEEL FREE TO ASK ANY QUESTIONS YOU HAVE NOW======
Any questions? Call or whatsapp me on 08119479966
Or Join my whatsapp group